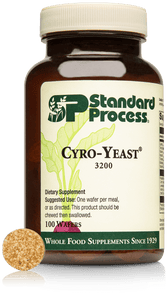 Cyro-Yeast supports cellular health and overall vitality.*
Encourages healthy cell functioning
Supports the healthy aging body
Promotes health in the lower gastrointestinal tract
Contains a combination of key ingredients from Catalyn® and Lactic Acid Yeast™
Good source of vitamin A and vitamin D*
---
Suggested Use:
One wafer per meal, or as directed. This product should be chewed then swallowed.
Please consult the product packaging label for the most accurate product information.
Nutrients & Ingredients
Each Serving Size (1 Wafer) contains: Total Carbohydrate <1 g, Vitamin A 120 mcg RAE, Vitamin D 2.5 mcg, Thiamin 0.1 mg, Riboflavin 0.1 mg, Vitamin B6 0.1 mg. Proprietary Blend 1,069 mg: Organic corn, whey, malt syrup, defatted wheat germ, yeast (Saccharomyces cerevisiae), bovine liver, bovine adrenal, organic carrot, organic sweet potato, bovine kidney, bovine spleen, ovine spleen, organic alfalfa (aerial parts) juice powder, rice bran, sunflower lecithin, ascorbic acid, organic reishi mushroom powder, and organic shiitake mushroom powder. Other Ingredients: Honey, acacia gum, calcium stearate, modified corn starch, sucrose, vitamin A palmitate, pyridoxine hydrochloride, riboflavin, thiamin hydrochloride, and cholecalciferol. Contains: Milk and wheat.
* These statements have not been evaluated by the Food and Drug Administration. These products are not intended to diagnose, treat, cure, or prevent any disease.