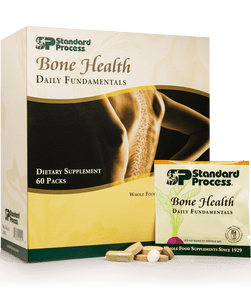 Bone Health Daily Fundamentals provide convenient maintenance support to keep bones strong and healthy.*
Adequate calcium as part of a healthful diet, along with physical activity, may reduce the risk of osteoporosis in later life.* 
Good source of antioxidant vitamin A
Excellent source of vitamin D, calcium, and manganese* 
Each box includes a 30-day supply of individual packs. Each pack contains:
---
Suggested Use:
Contents of 1 pack each morning and evening.
Caution: This product is processed in a facility that manufactures other products containing soy, milk, egg, wheat, peanut, tree nuts, fish, and shellfish.
---
Warning: This product contains naturally occurring vitamin K1. All forms of vitamin K may interact with blood thinning medications. If you are taking such medicines, please consult with your health care professional before taking this product.
Please consult the product packaging label for the most accurate product information.
Nutrients & Ingredients
Each Serving Size (1 Pack) contains: Calories 20, Total Carbohydrate 3 g, Dietary Fiber 1 g, Total Sugars 1 g, Protein <1 g, Vitamin A 150 mcg RAE, Vitamin D 20 mcg, Vitamin K1 4 mcg, Calcium 370 mg, Phosphorus 80 mg, Manganese 8 mg, Sodium 40 mg, Potassium 10 mg. Proprietary Blend 2,275 mg: Veal bone, veal bone PMGTM extract, defatted wheat germ, organic Brussels sprouts (aerial parts), organic kale (aerial parts), organic carrot, date powder, rice bran, and organic sweet potato. Other Ingredients: Honey, dicalcium phosphate, bovine bone, cellulose, calcium lactate, gelatin, milk powder, manganese lactate, calcium stearate, potassium citrate, arabic gum, glycerine, water, modified corn starch, sucrose, vitamin A palmitate, ascorbid acid, and cholecalciferol.
* These statements have not been evaluated by the Food and Drug Administration. These products are not intended to diagnose, treat, cure, or prevent any disease.