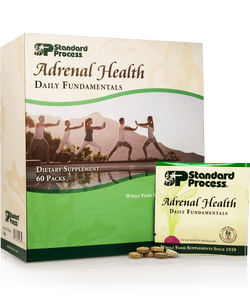 Adrenal Health Daily Fundamentals support healthy adrenal function and cellular health.*
Excellent source of riboflavin, niacin, and antioxidant vitamins A and C
Good source of vitamin B6
Each box includes a 30-day supply of individual packs (taken morning and evening). Each pack contains:
Cataplex® A-C-P (two tablets)—supports cardiovascular health, immune system response function, and cell maintenance*
Drenamin® (three tablets)— contains vitamins that are involved in healthy adrenal gland functions and the production of neurotransmitters associated with emotional balance*
Paraplex® (one tablet)—supports cellular health and healthy pancreas, pituitary, thyroid, and adrenal gland function*
---
Suggested Use:
Contents of 1 pack each morning and evening.
Caution: This product is processed in a facility that manufactures other products containing soy, milk, egg, wheat, peanut, tree nuts, fish, and shellfish.
Please consult the product packaging label for the most accurate product information.
Nutrients & Ingredients
Nutrients & Ingredients – Each Serving Size (1 Pack) contains: Calories 10, Cholesterol 10 mg, Total Carbohydrate 1 g, Protein <1 g, Vitamin A 250 mcg RAE, Vitamin C 20 mg, Riboflavin 1 mg, Niacin 12 mg, Vitamin B6 0.3 mg, Choline 10 mg, Calcium 50 mg, Sodium 15 mg. Proprietary Blend 1,200 mg: Organic buckwheat (aerial parts) juice powder, organic buckwheat flour, rice bran, nutritional yeast, bovine adrenal, magnesium citrate, organic alfalfa (aerial parts) juice powder, bovine adrenal PMG™ extract, bovine liver, porcine stomach, organic sweet potato, organic carrot, bovine kidney, organic oat flour, bovine pancreas PMG™ extract, organic alfalfa (aerial parts), porcine duodenum, defatted wheat germ, bovine bone, organic shiitake mushroom powder, organic reishi mushroom powder, bovine pituitary PMG™ extract, bovine thyroid PMG™ extract (processed to substantially remove its thyroxine), porcine brain, sunflower lecithin, veal bone PMG™ extract, veal bone, d-alpha tocopherol (vitamin E sunflower), echinacea angustifolia (root), echinacea purpurea (root), calcium phosphate, medium chain triglycerides, and carrot oil. Other Ingredients: Calcium lactate, honey, cellulose, choline bitartrate, ascorbic acid, niacinamide, calcium stearate, modified corn starch, acacia gum, riboflavin, pyridoxine hydrochloride, vitamin A palmitate, and sucrose. Contains: Wheat.
* These statements have not been evaluated by the Food and Drug Administration. These products are not intended to diagnose, treat, cure, or prevent any disease.