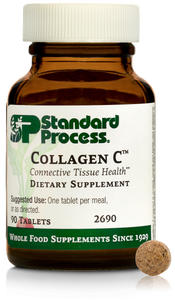 Collagen C, a supplement to support collagen production, contains antioxidant vitamin C to support healthy connective tissue.*
Supports and promotes normal immune system response function*
Provides whole food acerola and rose hips
Excellent source of antioxidant vitamin C, which is involved in the production of collagen
What Collagen Does
Collagen is a protein molecule made up of amino acids. It provides structural support between cells that make up the inner layers of connective tissues in our skin1. The connective tissue in the inner (middle) layer of the skin is composed of collagen and elastin fibers, which maintain the tension and elasticity of skin.2,3
Vitamin C and Skin Health
The antioxidant properties of vitamin C and its role in collagen synthesis make it a vital molecule for skin health. Vitamin C's antioxidant activity is particularly important in the top (epidermal) layer of our skin,4 where its concentration is 425% higher than in the dermis.2 Ultraviolet light, especially UVA, is a common factor that induces skin oxidative stress.2,5 The antioxidant activity of vitamin C helps protect against UV-induced damage caused by free radicals.6
Cell culture studies have shown that addition of vitamin C might influence the ability of the skin to protect itself from water loss.4,7,8
Cited References: 
Block G, Jensen CD, Morrow JD, Holland N, Norkus EP, Milne GL, et al.  Free radical biology & medicine. 2008;45(4):377-84. Epub 2008/05/06. doi: 10.1016/j.freeradbiomed.
Wang K, Jiang H, Li W, Qiang M, Dong T, Li H. Frontiers in Physiology. 2018;9. doi: 10.3389/fphys.2018.00819.
Hadjighassem M, Kamalidehghan B, Shekarriz N, Baseerat A, Molavi N, Mehrpour M, et al. Nutrition journal. 2015;14:20. Epub 2015/04/19. doi: 10.1186/s12937-015-0012-5.
Pullar JM, Carr AC, Vissers MCM. Nutrients. 2017;9(8):866. doi: 10.3390/nu9080866.
McArdle F, Rhodes LE, Parslew R, Jack CI, Friedmann PS, Jackson MJ. Free radical biology & medicine. 2002;33(10):1355-62. Epub 2002/11/07. doi: 10.1016/s0891-5849(02)01042-0.
De Filippo C, Cavalieri D, Di Paola M, Ramazzotti M, Poullet JB, Massart S, et al. Proceedings of the National Academy of Sciences of the United States of America. 2010;107(33):14691-6. Epub 2010/08/04. doi: 10.1073/pnas.1005963107.
Savini I, Catani MV, Rossi A, Duranti G, Melino G, Avigliano L. The Journal of investigative dermatology. 2002;118(2):372-9. Epub 2002/02/14. doi: 10.1046/j.0022-202x.2001.01624.x.
Boyce ST, Supp AP, Swope VB, Warden GD. The Journal of investigative dermatology. 2002;118(4):565-72. Epub 2002/03/29. doi: 10.1046/j.1523-1747.2002.01717.x.
---
Suggested Use:
One tablet per meal, or as directed.
---
Caution: If pregnant or nursing, consult your health care professional before using this product. Caution in using this product if allergic to plants of the daisy family.
Please consult the product packaging label for the most accurate product information.
Nutrients & Ingredients
Each Serving Size (1 tablet) contains: Vitamin C 100 mg, Sodium 5 mg. Proprietary Blend 194 mg: Organic rose hips, veal bone PMG™ extract, echinacea angustifolia (root), echinacea purpurea (root), bovine adrenal, defatted wheat germ, organic buckwheat flour, organic buckwheat (aerial parts) juice powder, organic reishi mushroom powder, and organic shiitake mushroom powder. Other Ingredients: Ascorbic acid, honey, organic acerola (berry), organic maltodextrin, and calcium stearate. Contains: Wheat.
* These statements have not been evaluated by the Food and Drug Administration. These products are not intended to diagnose, treat, cure, or prevent any disease.