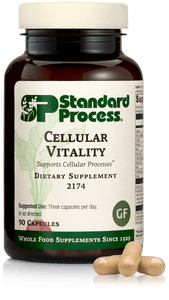 Cellular Vitality is a cellular health supplement containing coenzyme Q10 (CoQ10) to help protect cells from free radicals.*
Supports the whole body, with emphasis on cellular processes.*
Contains American ginseng, an adaptogenic herb, and Cordyceps sinensis mushroom
Contains B vitamins, to fuel cells and participate in numerous body processes that contribute to normal function*
Provides nutrients that support antioxidant activity
Includes the enzyme bromelain from pineapple stems and juice that modulates pathways involved in the body's natural inflammatory response function*
Contains coenzyme Q10, a nutrient that is essential for generation of energy within the mitochondria of cells and that helps protect cells from free radicals*
Excellent source of riboflavin, vitamin B12, biotin, and pantothenic acid
Good source of thiamin, niacin, vitamin B6, and folate
---
Suggested Use:
Three capsules per day, or as directed.
Caution: This product is processed in a facility that manufactures other products containing soy, milk, egg, wheat, peanut, tree nuts, fish, and shellfish.
Please consult the product packaging label for the most accurate product information.
Nutrients & Ingredients
Each Serving Size (3 Capsules) contains: Calories 10, Total Carbohydrate 1 g, Thiamin 0.2 mg, Riboflavin 0.3 mg, Niacin 3 mg, Vitamin B6 0.3 mg, Folate (30 mcg folic acid) 50 mcg DFE, Vitamin B12 0.5 mcg, Biotin 10 mcg, Pantothenic Acid 1 mg, Sodium 5 mg, Coenzyme Q10 80 mg. Proprietary Blend 1,250 mg: Multi-fruit seed powder [ruby grape seed, blueberry seed, cranberry seed, red raspberry seed, and black raspberry seed], ribonucleic acid, organic cordyceps mushroom powder, American ginseng (root), and bromelain. Other Ingredients: Organic quinoa sprouts, cellulose, water, and calcium stearate.
* These statements have not been evaluated by the Food and Drug Administration. These products are not intended to diagnose, treat, cure, or prevent any disease.