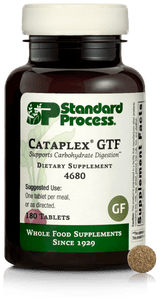 Cataplex GTF supports carbohydrate digestion and encourages healthy blood sugar utilization at cellular level.*
Supports healthy blood sugar levels when already within a normal range
Supports healthy cholesterol levels that are already within a normal range
Excellent source of niacin and chromium
Good source of antioxidant vitamin A*
Cataplex GTF combines chromium, L-cysteine hydrochloride, and pancreatic Cytosol™ extract, along with synergistic ingredients, to support carbohydrate digestion. Chromium in particular is an essential nutrient involved in carbohydrate metabolism.
---
Suggested Use:
One tablet per meal, or as directed.
Caution: This product is processed in a facility that manufactures other products containing soy, milk, egg, wheat, peanut, tree nuts, fish, and shellfish.
Please consult the product packaging label for the most accurate product information.
Nutrients & Ingredients
Each Serving Size (1 tablet) contains: 150 mcg RAE Vitamin A, 2 mg Vitamin C, 9.5 mg Niacin, 48 mcg Chromium. Proprietary Blend 317 mg: Bovine liver, nutritional yeast, organic buckwheat (aerial parts) juice powder, organic buckwheat flour, bovine pancreas Cytosol™ extract, inositol, l-cysteine hydrochloride, bovine adrenal Cytosol™ extract, and oat flour. Other Ingredients: Honey, chromium yeast, niacinamide, ascorbic acid, modified corn starch, calcium stearate, vitamin A palmitate, and sucrose.
* These statements have not been evaluated by the Food and Drug Administration. These products are not intended to diagnose, treat, cure, or prevent any disease.